Author and EWTN Series Host Susan Conroy to Speak at St Joseph Parish
St. Joseph Parish in Wakefield is pleased to offer a "Night of Love, Joy and Service" with the bestselling author, Susan Conroy on Tuesday, May 16, 2017 from 7pm – 9pm in our main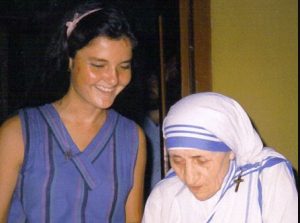 Church. Susan grew to know Mother Teresa throughout the course of 11 years from 1986-1997.
At the age of 21, Susan explains: "I flew across the world and showed up at Mother Teresa's doorstep in Calcutta, India to offer my 'hands to serve and my heart to love' the Poorest of the Poor. I helped to take care of the babies in the orphanages, and every afternoon I volunteered in Mother Teresa's famous Home for the Dying. This experience changed the course of my life. Amidst the ugliness and death in Calcutta, I found beauty and life. In this hell on earth, I experienced Heaven and I felt that I could touch God."
Come join us as Susan shares how her experience working with Mother Teresa changed her life and can change yours too. Susan's books will be available for purchase after the event. If you have any questions, contact Sofia Griffin at 781-718-3778.