St. Joseph's Table, our successful community dinner program, provides hot meals, music and companionship to those in need the 2nd Friday and 4th Wednesday* of the month in our Parish Hall.
Meals include, roast beef, turkey, lasagna, pasta with chicken &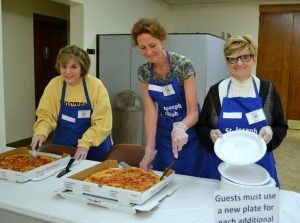 broccoli, chicken or veal parmigiana, Greek, Caesar, or garden salad, antipasto, potatoes of every type, varied vegetables, pizza, varied desserts and both hot and cold beverages.
St. Joseph's Table has over 130 volunteers.  Volunteers assume a variety of roles, including:  On-Site Ombudsmen, Team Leaders, Greeters / Guides, Prayer Leaders, Set-Up and Clean-Up Crews, Servers, Musical Accompanists, ServSafe Certified Staff, CPR and Choking Prevention Certified Staff, and Outreach Committee.
*Dinners may be rescheduled during severe weather or during holiday weeks.  Please call the rectory at 781-245-5770 with any questions.