EWTN Global Catholic Network, is the largest religious media network in the world. EWTN's 11 global TV channels are broadcast in multiple languages 24 hours a day, seven days a week to over 300 million television households in more than 145 countries and territories. EWTN platforms also include radio services transmitted through SIRIUS/XM, iHeart Radio, and over 500 domestic and international AM & FM radio affiliates; a worldwide shortwave radio service; one of the largest Catholic websites in the U.S.; electronic and print news services, including Catholic News Agency, "The National Catholic Register" newspaper, and several global news wire services; as well as EWTN Publishing, its book publishing division.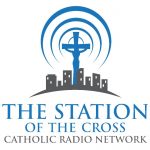 In the mid-1990s, Jim and Joanne Wright visited the monastery at the Eternal Word Television Network (EWTN). Mother Angelica, the foundress of EWTN, asked them to go back home to Buffalo and start a Catholic radio apostolate. Jim and Joanne did not have any radio or media experience.
After prayerful discernment, The Station of the Cross began with the goal of bringing Catholic radio to Western New York. After overcoming a number of challenges, The Station of the Cross began broadcasting in Buffalo, New York, in 1999. The listening areas have multiplied over the years!
The Station of the Cross Catholic Radio Network is dedicated to proclaiming the fullness of Truth with clarity and charity.
Take the Station of the Cross with you wherever you go with our free iCatholicRadio mobile app! Listen to live shows, download podcasted episodes, and more! Download on Google Play or the App Store today!