We will have a Lenten DVD program for 5 weeks on Tuesday evenings at 7:00 p.m. beginning on Tuesday, March 3, in the Parish Hall. It is entitled, Jesus: The Way, the Truth, and the Life. This study shows, in a simple way, how Jesus, the Incarnate God, is both fully divine and fully human – His intimacy with the Father, His revelation of the Father's love, and His extraordinary influence on His disciples, His followers, and even His enemies.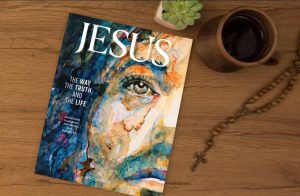 In this Study, Catholics will learn:
 Who Jesus is and how he answers the longings of the human heart.
 Why Jesus was baptized.
 The significance of the Transfiguration.
 The essentials of Christology explained in a way the average Catholic can understand.
 The mystery and meaning of the Resurrection, Christ's triumph over death.
 The nature of Jesus' mission and the redemption of humanity.
 Our role today as Catholics in the Great Commission.